Who's the hottest band in Chicago right now?
It's a 23 piece marching band, complete with its own 3 person cheerleading squad.
You heard me.
All right, I'll explain. It's now been almost 4 and a half years since my band
The Nubile Thangs!
broke up, but honestly, it really feels like yesterday. People still ask me all the time when we're playing next, and with the exception of one gig we played last year (sans our trumpet player, who is
now burning up the charts in Spain
with his new band
Marlango
), we're pretty much dormant indefinitely. But I still get emails all the time from other bands, inviting me to check out their shows. I hardly ever do, not because I don't want to, but I just never have the time.
So, anyway, I started getting this email on a semi-regular basis from this group called
Mucca Pazza
, and ok, I'll admit it. I totally ignored it. I dunno, I saw the name, and then I saw them describe themselves as
"nerd-core"
, and I thought
"Criminy, another indie-rock band"
. I mean, I'm sorry, people, I have had it up to here with indie-rock. Really, It's all just really dull for me. It's not even any fun to make fun of it anymore, it's just really boring. Seriously. And I mean, I didn't know who these people were, the name didn't ring a bell.
So I put it off. The emails from this band would come every so often and I would just be like
"Well, here's another..."
and then forget about it. I feel bad about it now, but listen, I still have this Poison tribute band that writes me every week, and I'll be damned if I'm gonna go check out their website either. You see what I mean?
Finally, I get one of these emails from Mucca Pazza, and for some reason, I thought
"Well, I should just check out their website, just in case".
And WHAM! It suddenly hit me who these people were and why they were so freakin' awesome! OK, so the story here is that this is the marching band that developed from the various events that
Red Moon Theater
has put together over the last few years. You know, like every time they do an outdoor parade or they have their winter pageant, this is that marching band that plays it.
Only now they've really become an actual band with, as I previously mentioned, 23 people in the band, including 4 trumpets, 4 trombones, 5 saxophones, 7 drummers, 2 accordianists, a guitarist, a violinist, and a sousaphone! And damn if I didn't already know half of these people!
And look, here are their cheerleaders with cool moves for each song! Pretty slick, eh?
OK, but I have to say that I really loved the music. Here, check some of it out. You have this marching band doing a
surf song,
a Czech flavored brass band number,
and hell, they even do a cover of
the theme to Mr. Magoo!
Do yourself a favor and turn this up when you play it, so you can hear the whole band.
So, now here's where you're really in the know. Mucca Pazza (which means
"mad cow"
in Italian, or
"worst band name since The Nubile Thangs!"
in English) have been playing this monthly gig at
The Hideout
(the super cool rock club of Chicago) for a few months now. This last gig that they had, the show was completely sold out, and they had to turn over 100 people away who wanted to see it. So, trust me, the band is seriously about to become the marching band to beat in the club scene (and we all know how tough that gig is).
Here's a bootleg video of them playing live.
WARNING! THIS VIDEO IS VERY LOUD! TURN DOWN YOUR SOUND A LOT BEFORE CLICKING ON THIS LINK!
Obviously, this video is not the best way to see them, but this is all I got to work with, people.
Seriously, this band is the next big thing in Chicago. I'm not kidding! There's no cd yet, so you better go check em out while you can.
You can see them at:
Reversible Eye Gallery (1103 N. California Ave.) on January 27 for $5
(there will be music, feline performance troupe, puppet and doll show, contortionists, etc)
and they're back at the Hideout ( 1354 W Wabansia Ave) on Feb 19.
All right! Remember who told you!
Oh hey, before I forget!
Let's update a few of the stories we've been talking about lately. If you missed the story the first time, just click on the picture next to the story and you can catch up on what you missed. (Thanks to Toy for passing on some of these updates).
- Runaway cow lives!
In a followup story by Reuters
, the owner of the cow who made the incredible escape from the slaughterhouse has decided to let the cow live out its life.
"I've been around cattle all my life and it's just totally amazing,"
he said, adding that it is a rare cow that escapes slaughter.
"I watched her do things that are just not possible for a cow."
Now, the owner is trying to decide where the cow will live: In the pasture outside the slaughterhouse or at a cow sanctuary in Seattle.
In the pasture outside the slaughterhouse??
My god, man, send that cow to Seattle. Otherwise, it will just be living out some bovine version of Schindler's List, and will ultimately be driven to the point of guilt-ridden insanity and break back INTO the slaughterhouse to do itself in.
- The killers of Bryan Harvey and his family appear to have been arrested,
according to Richmond TImes-Dispatch.
It was not publicized at the time of the reports when the Harveys were found, but there had already been ANOTHER family that had been killed in the same way in Richmond. If these are the people responsible, then thank goodness that they have been caught before anyone else was hurt.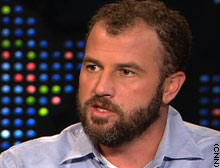 -
James Frey appeared last night on Larry King Live
, where he attempted (poorly) to explain himself, after being exposed by
the Smoking Gun
, for fabricating large portions of his book
A Million Little Pieces
. He admitted that he had embellished small parts of his story, but that it didn't matter anyway. His defense is that a memoir is not strictly non-fiction, it's more of
"a history as I remember it"
and therefore, it does have not have the same standard as a
"typical non-fiction"
book. What's disingenuous about this explanation, however, is the fact that the book was first pitched as a fictional novel, and refused by 17 different publishers, until a publisher at Random House suggested that if he
"restyled"
the book as an actual memoir, then she would publish it. This explanation
was blasted by famed author Gay Talese
, who said that this type of rationalization, of what was clearly a person just making up lies and passing them off as facts, is ultimately what will destroy the concept of
"non-fiction books"
. This is
especially
interesting because Gay Talese's wife, Nan Talese,
was the publisher at Random House who ultimately published the book in the first place!
Man! Sounds like somebody will need a million little divorce lawyers at the end of this.